We use affiliate links. If you purchase something through the links on this page, we may earn a commission at no cost to you. Learn more.
SPONSORED NEWS – Creality has established itself as a market leader in the world of low-budget FDM 3D printers for the best-selling Ender series. For resin printer enthusiasts who seek high precision in detail, Creality also has several competitive offerings, and this buyer's guide will summarize the specification differences of the HALOT-ONE series aimed at providing a premium user experience to 3D printing beginners and FDM printer users who are considering choosing their first resin printers.
One of the main features of the HALOT series is Creality's self-developed integral light source technology. Unlike the parallel emission technology you can find in most resin printers, the HALOT series offers improved light intensity, super precise printing, and excellent light uniformity. According to data from Creality Lab, while parallel emission only achieves 73.4% surface uniformity, the integral light source can produce up to 90% uniformity, increasing the accuracy of impression.
HALOT-ONE – the basic version of HALOT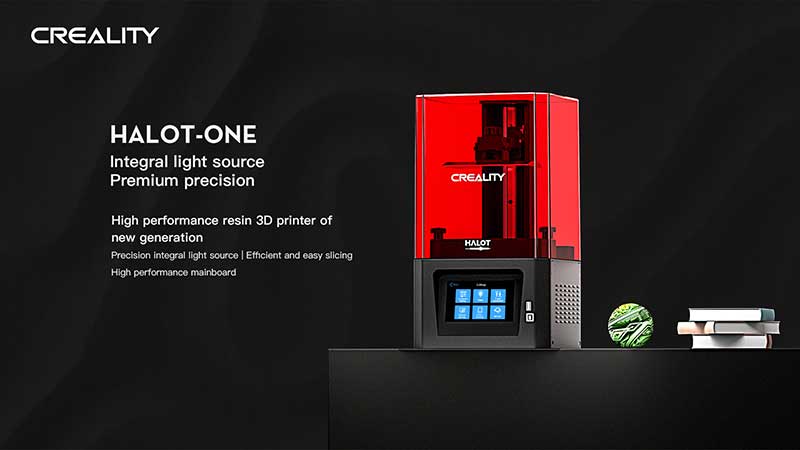 The HALOT-ONE features a 6-inch 2K LCD monochrome display with a resolution of 2560 x 1620 pixels, Wi-Fi connectivity, a large 5-inch color touchscreen and a build volume of 127*80* 160mm. Powered by an ARM Cortex-M4 processor, the HALOT-ONE gives you above-average performance at an affordable price.
Creality's premier resin slicer Creality Box can give you a simple and straightforward slicing experience, but other software options are available, including ChiTuBox and Lychee.
Resin smell is one of the factors that keep some users from using resin printers. The HALOT-ONE's air filtration system with the activated carbon filter will help filter fumes effectively.
Initially priced at $289, the HALOT-ONE printer is only $145 during the special Halloween discount period when purchased from the official Creality store. If you are planning to choose your first printer, the HALOT-ONE can be your best choice to try at a minimum price.
HALOT-ONE Pro – for better performance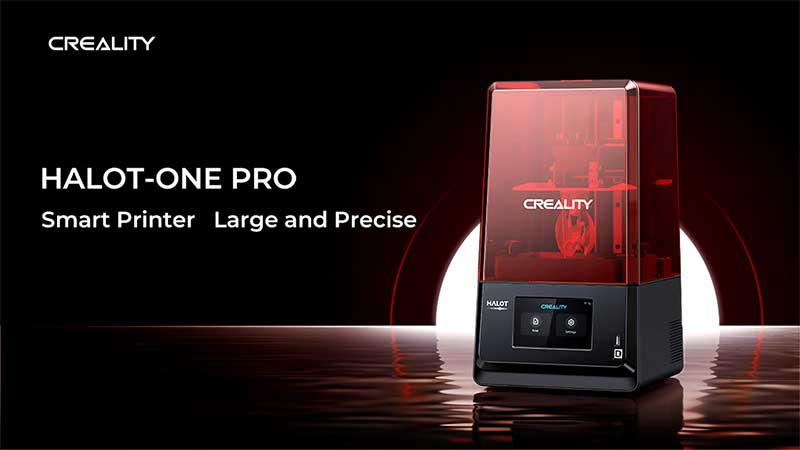 As the "Pro" suffix suggests, the HALOT-ONE Pro has better specs than the HALOT-ONE. Launched in April this year, the HALOT-ONE Pro features a larger build volume of 130 x 122 x 160mm and a 7.05-inch 3K monochrome LCD display with 2560 x 2400 resolution. Wi-Fi connectivity, air filtration and remote control functions.
The 5-inch touch screen of the pro version supports 14 languages ​​including Chinese and English, making it more accessible to users around the world. And the print model can be rendered on screen while printing for better viewing. Besides a USB port, you can connect the HALOT-ONE Pro via Wi-Fi, get remote prints from PC and Creality Cloud.
Unlike the HALOT-ONE, the pro version of the printer has dual z-axis linear rails which give the printer extra stability and layer accuracy.
The HALOT-ONE Pro is priced at $349 but a $51 discount is available. For those who are new to 3D printing and have the budget to buy a resin printer with better specs, the HALOT-ONE Pro will live up to your expectations.
HALOT-ONE Plus – for higher build volume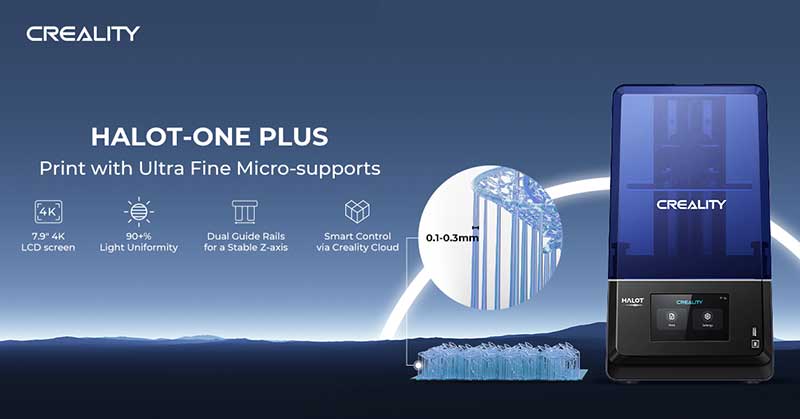 The HALOT-ONE Plus features a 7.9 inch 4K monochrome display with 4320 x 2560 resolution. With a large build volume of 172 x 102 x 160 mm, the plus version opens up more creative possibilities. In addition to remote functionality, you can also add a camera module to the printer to view prints in real time.
Similar to the pro version, the plus version has two linear rails providing stability and better print quality, as well as an integrated air filtration system to remove odors. If you prefer a large printer with a sub-$400 budget, the $399 HALOT-ONE Plus is a premium choice. Creality will be offering a 15% discount from October 10 to 30, which means you can get one for just $339 and share the Halloween cheer with others.
Resin printers have been widely used not only to manufacture action figures, but also in industries such as dentistry, jewelry, and architectural design, where high detail accuracy is required. The three models of HALOT-ONE resin printers are available on store.creality.com in the United States and store.creality.com/de in European countries. There are various discounts to explore in our official store above.