We use affiliate links. If you purchase something through the links on this page, we may earn a commission at no cost to you. Learn more.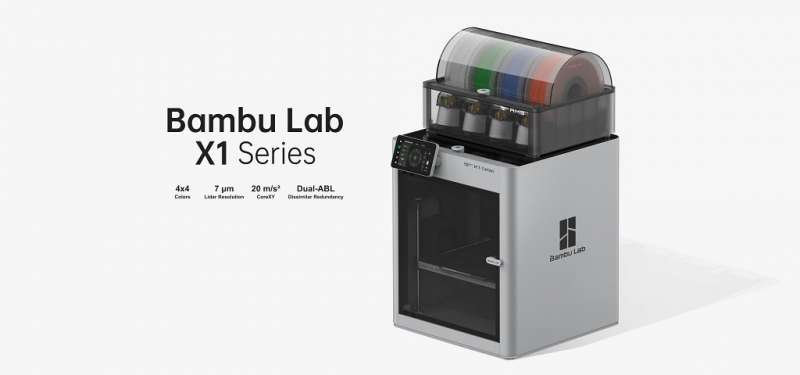 NEWS – Have you ever wondered what would happen if a company put everything you wanted in a 3D printer and made it extremely affordable? Well, Bambu Lab has developed a new 3D printer that brings features to the consumer that were previously only available on very expensive industrial printers.
The Bambu Lab Z1 series will be launched via Kickstarter in May 2022. I'm not normally a fan of Kickstarter projects, but these printers are already in production and the feature list is mind blowing.
Ranging from $699 to $999, all three models are amazing. Here is the feature list of the X1 series:
Closed frame with activated carbon air filtering
CoreXY motion system with 500mm/s speed
300°C all metal hot end and hardened nozzle
Heated bed 120°C, room 60°C
Large build volume of 256x256x256mm
32-bit dual-core MCU
Quad-core SoC
Double automatic bed leveling with force sensors and lidar
Lidar for first layer inspection and extrusion calibration
Monitors 43 sensors in real time
720p LCD touchscreen
Active vibration compensation
Optional automatic material system for up to 4 colors. Link up to 4 AMS together for 16 colors
RFID technology identifies filament information
Print with PLA, PET, ABS, PC, HIPS, ASA, carbon fiber reinforced PA and many more
Cloud service and remote printing
Room surveillance camera
Wi-Fi connectivity
Easy removal from the stand
Bambu Micro Lidar brings micrometric precision to 3D printing. The Lidar system probes the height of the nozzle, calibrates the flow and scans the first layer. Analog force sensors check bed leveling for redundancy.
An AI system can detect spaghetti situations (when printing fails). The system can also send warnings to your mobile phone, and you can access the video stream from anywhere.
The printer comes pre-assembled and ready to print right out of the box. It's fast too, printing the standard benchy in around 16.5 minutes!
Check out more info, specs and videos on the Bambu Lab website.