Over the past few years, we have seen an increased "democratization" of 3D printing. That is, an increasing number of manufacturers are coming to market with cheaper machines, making the technology more accessible to more people around the world. One such manufacturer that offers more affordable office machines is the Chinese company Anycubic.
Founded in 2015, Anycubic has become a popular choice especially for 3D printing enthusiasts thanks to its various 3D printing desktop solutions, both in resin 3D printing and FDM. Although the company currently offers around 12 printers, we decided to take a closer look at some of their popular offerings to better understand what sets them apart.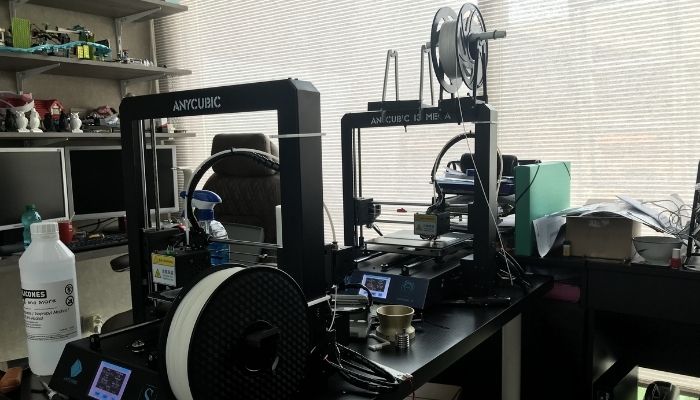 The Photon Series
The Photon Series is Anycubic's resin 3D printing desktop option and with printers starting at just $99, it's certainly affordable for people looking for a reliable printer capable of making very detailed. Consisting of around 7 printers currently, the machines use an LCD-based SLA 3D printing method, which means it cures the resin using an LCD screen. This technology is known for creating parts quickly with high precision. Here are some of the best Photon series printers.
Photon Mono
If we talk about the Photon range from Anycubic, we would be remiss if we did not mention the basic model, the Photon Mono. Usually starting at $269, this printer is often on sale. Currently, you can get it for $159 just in time for the holidays. The build volume of the printer is 130mm(L)*80mm(W)*165mm(H) and it has 0.051mm 2560*1620(2K) resolution, perfect for those who want more designs complex. With a maximum print speed of 50mm/h, it's by no means the fastest of the series but a good entry-level model for someone looking for a solid SLA machine.
Mono X
Compared to the Photon Mono, the Mono X is definitely more expensive with a current selling price of $429.00. However, there's no denying that you get what you pay for with those extra dollars. The Mono X is larger than the Mono, with a build volume of 192mm(L)*120mm(W)*245mm(H) and 3X faster printing speed than its predecessor. In addition to this, the machine also has a new matrix light source for better quality prints, a UV cooling system and even a dedicated application for remote control of your prints. It is this last point that is certainly of interest to many users, as it would allow them to control printing operations, monitor printing progress, adjust printing settings and more remotely to ease of use.
Mono 4K Photo
As its name suggests, this version of the Photon Mono, the 4K, offers 4K resolution for owners of the machine. Although smaller than the Mono X at 6.5 x 5.2 x 3.1 inches / 16.5 x 13.2 x 8 cm, it's almost as fast with a print speed of 50 cm/h. But where it really shines is in the resolution. At a resolution of 3840 x 2400px, the display has a total pixel count of over 9.2 million, which is 122% more than Photon and Photon Mono according to Anycubic. And at just $289.00, it's relatively cheap for the quality users receive.
Some of Anycubic's FDM solutions
Anycubic is also known for its FDM printers, namely its popular Mega series. These printers stand out for their affordable price, although this is also related to the fact that they all have an assembly component. While none of them can be considered a fully DIY 3D printer, they come with some parts unassembled and with user instructions. However, for some skilled in this type of work, or who want to learn, the compensation costs are certainly worth it. FDM printers can also be attractive for those who need a larger build volume, as most current solutions are larger than their SLA counterparts. Let's take a closer look at some of the best FDM printers currently offered by Anycubic.
The Mega range
Currently consisting of 5 printers, the Mega series is Anycubic's range of FDM printers. Undoubtedly one of the most popular is the Mega X, especially for its high build volume, 300x300x305mm and filament sensor which allows users to avoid costly print failures. It also has a number of great features, including easier leveling with a handy knob, a twin-screw rod, and a powerful extruder. As for the other printers in the range, they share many of these features although Mega X is the largest in the series. However, for someone who wants a high quality printer that could be cheaper and smaller, there are plenty of options in the series including the Mega Pro, i3 S and more. And as with the Photon range, Anycubic notes the possibility of precise, high-quality printing thanks to high print resolution.
Vyper
One desktop FDM offering from Anycubic that falls outside of the mega range is the Vyper. This self-leveling 3D printer features a new 32-bit motherboard and high-performance Cortex-M3 architecture main control chip for what the company claims is faster computing speed and smooth operation. more fluid. Generally, this printer has been optimized by the company to be easier to use and have fewer print failures. Although it is a bit more expensive than some of the other printers offered by Anycubic, starting at $329.00, it makes up for in its precision and quiet 3D printing, making it ideal for a home or office.
Chiron
Last but not least, Chiron is Anycubic's biggest printer, with an impressive volume of 400x400x450mm. The printer offers many of the same features as the company's other FDM solutions, including a filament sensor, user-friendly touchscreen, and high-quality extruder, while being significantly larger for a slight price increase. $379.00. It is compatible with PLA, ABS, HIPS, wood and TPU thanks to an extrusion temperature of up to 260°C.
Do you own an Anycubic printer? Which would you suggest? Let us know in a comment below or on our LinkedIn, Facebookand Twitter pages! Don't forget to sign up for our free weekly Newsletter here, the latest 3D printing news straight to your inbox! You can also find all our videos on our Youtube channel.